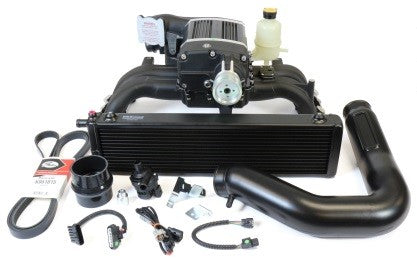 260A1011 Supercharger System for Toyota FT-86 / Subaru BRZ / Scion FRS (210) Intercooled - Hardware Only
Item is in stock
Only

2

left in stock
Item is out of stock
Item is unavailable
Sprintex Superchargers are the "King of Torque". Adding a Sprintex Supercharger to your 2012 to 2021 Subaru BRZ, Scion FR-S or Toyota 86/GT86 will give you 259 rwhp and 199 rwtq. Using the latest Series 5 Twin-Screw supercharger the system delivers lower discharge temperatures and drive requirements at all power levels for low parasitic loss and increased drivability. More efficient aiflow = more power. The result?  A 42% increase in instant, usable torque and a whopping 61% increase in Horsepower. With Sprintex Superchargers you'll experience a robust increase in power, improved torque from idle and absolutely NO LAG. Installation of the system takes only 6 hours and requires no cutting of the frame or body and retains the stock hood. No oil lines to run as the oiling system is completely self-contained. No engine modifications necessary. Uses stock airbox. Features water to air intercooler with Laminova tubes. Aftermarket tuning recommended. From right off idle all the way to redline you will feel the difference made by your Sprintex positive displacement supercharger system. 
High efficiency water to air intercooler system incorporating Laminova® tubes optional
Fits left and right hand drive vehicles, automatic and manual vehicles
50 State Legal, C.A.R.B. EO: D-695-2
No cutting or welding of standard body or frame components
Estimated installation time of 4-6 hours

Manufactured under ISO 9001 and TS 16949
Sprintex system parts are warranted for 12 months or 12,000 miles / 20,000 KMS
Frequently Asked Questions
Do you ship internationally?

Yes, we ship worldwide.

Does it cost extra for shipping?

Yes, standard shipping rates apply and are calculated based on shipping address using current shipping rates.

How long will it take to receive my order?

Typically we ship within 5-7 business days. You can choose to pay extra for faster shipping.

Do you have an option to give as a gift?

Sorry, but we do not offer any gifting services at this time.

What do I do if my product was damaged?

We are sorry for the inconvenience! Contact our support team so we can file the details and make it right for you.

We only accept returns of new, superchargers that have not been installed. There is a 10% re-stocking fee.